Tamil film director Agathiyan dropped by for a talk, discussing his experience, the agony of working in that industry, not only in India but everywhere else, as there are constantly warfare between quality content and commercial elements in a film.
In the 1958 film, the Agony and The Ecstasy (which has nothing to do with masculine shortcoming and the cure), Charlton Heston plays Michaelangelo, the famed 16th-century sculpture/artist commissioned by Pope Julius II (Rex Harrison) to paint the Sistine Chapel. Not the Nippon type of painting, but an actual art piece that has since become a major draw in the Vatican City, next to whichever eminent person is being driven around in Popemobile.
While at it, Heston becomes passionately embroiled in an argument with the Pope (played by Rex Harrison), him being a true-blue artist and Pope wanting "messages". This was the beginning of art vs ideology or commerce, or crowd-pulling stunts.
The Director And His Art
This issue became the focus of the talk given recently by once famed Indian director from the Tamil film industry, Agathiyan, when he came down to Kuala Lumpur. The talk was jointly organized by the Malaysian Tamil Writers Association and Malaysia Nadigar Thilagam Sivaji Ganesan Art Council.
Agathiyan should be both lauded and blamed for what had happened to the 90s Tamil film industry. In 1996, he directed and released Kathal Kottai (Fort of Love) which was a huge success. The plot revolves the (and this is pre-online social media, mind you) a couple who had never met each other but fell in love anyway through epistles corresponded. Yes, plain letter writing was the mode of communication between lovers separated by distance and duty.
It was, to borrow from the Scorpion (band), a "Wind of Change" for the industry. Till then, the Tamil film factory was churning out macho stuff, masculine idol worshipping (to which it has since returned to, sadly) and what they call "masala" (spice mix) fares
Agathiyan, who took inspiration from the likes of the earlier generations of filmmakers like Sridhar, Bheem Singh, K. S. Gopalakrishnan, K. Balachander and John Mahendran, among others, who put strong storytelling before techniques and circus freak shows, went on the path of an auteur in ensuring that a moving tale comes first, before garnishing and dessert.
For better or worse, Kathal Kottai twisted and turned the industry around and a slew of inspired romance flicks started crowding the industry. His follow-up was a better film in my book, Gokkulatthil Seethai. Agathiyan had his shot, and then, he disappeared into almost obscurity.
The Agony Of Art And Literature On Screen
This was asked diplomatically during the Q&A session, and he was quite forthright in admitting that he doesn't belong to the profit-margin-based industry, where small discerning films can slip and fall in an open manhole in the steaming industrious business.
The literature guys (and gals) in the audience then proceeded to ask him about the role of literature platform in cinema, as there have been many good novels which were remade into films.
Aside: Agathiyan also wrote a novel, Kalanthorum Kaveri which was brought to the event, which he didn't hard-sell, proving that he is not much of a salesperson, just an artist. End of aside.
Being a writer himself, he expressed his disdain and noted that there were some notable, noble attempts in the past, where even a commercially successful director A. Bhimsingh directed the award-winning novel, Sila Neranggalil Sila Manithargal, but they are far and few in between.
Indeed, my own favourite Tamil film director, Mahendran, turned a short story into a marvelous feature-length film in 1978, Mullum Malarum, that showed the performer side of the now superstar, Rajinikanth — one that will never be seen again as he himself got lost in the commercial commotion.
Agathiyan didn't bad mouth his peers, though. In fact, he gave samples of scenes from proper literature adapted by the non-copyright respecting Tamil film directors in their films. Yes, unacknowledged, therefore ensuring literature will always be in the shadow of the gigantic cinematic. Of course, knowing that those were inspired will only diminish the greatness of those commercial directors.
Views From Our Shores
On behalf of the Malaysian Nadigar Thilagam Sivaji Ganesan Art Council and, the Malaysian Indian production platform, director K. Vijeyasingham spoke at length on the need for quality content, as opposed to just crowd-pleasing puff pieces. He is releasing his first feature film, Kathal Athu Ragasiyamanathu, this month and is anxious if the audience are willing to take up on his content-heavy film, which is devoid of all those popcorn shebangs. Our own Tamil language films are mostly made up of more crowd-pleasing genres like thrillers and action (albeit with poor production quality, poorer performance and if I list other poor attributes they have to collect from charitable bodies).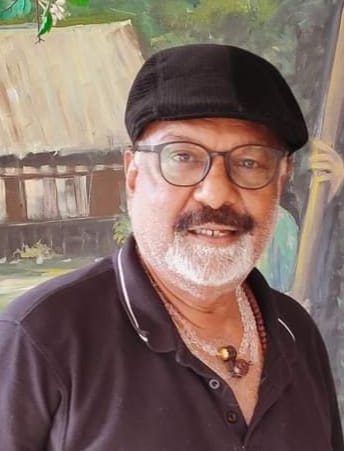 The event was small, inconspicuous, served only tea, coffee and a few types of Kuihs. It is that small. But the matters discussed were big, heavy, spicy and sweet. Some, which could be too sensitive to be put on record here. It is relevant though considering the trend around the world, with the success of the Marvel films in Hollywood, the ginormous productions in India like Bahubali and the soon-to-be-released Ponniyin Selvan, as well as Malaysian own budget through-the-ceiling flicks like Mat Kilau, which are going to sideline the smaller, content heavy films (Watch out for this space for an interview with Malaysian veteran filmmaker Anwardi Jamil who gives his take on the dangers of big films overshadowing smaller flicks)
Going back to the agony and ecstasy analogy. True artists (whatever that means) experience agony, may it be when creating their art pieces, or when they feel unappreciated. But the ecstasy part always goes to the audience, the revellers. Especially when they outlive the creator.
Directors like Agathiyan may live a frustrated life, with a career that was put on temporary lull by commercial greed, but he gave assurance that there is still room for appreciation for the aesthetical side of filmmaking. He may be back, once the audience are tired of big-budget bonanzas and bamboozling publicity spittle all over the place. It's always the storyteller, not the showman who the crowd takes seriously. — NMH
About the writer: Rakesh Kumar is a writer, scriptwriter, and a film aficionado, who is four years and nine months clean and sober. And counting.
The points expressed in this article are that of the writer and do not necessarily reflect the stand of the NMH.
Facebook Comments