The box-office success of Mat Kilau is great, but is Malaysia all about producing racing and silat films? Veteran filmmaker and film history buff Anwardi Jamil weighs in his views on what it takes to bring our films to the global arena, without having to ruffle the Hollywood popcorn-fare feathers.
For film critics, when it comes to trashing films there are no other sadistic joys more pleasurable than deploying in words the most devastating weapon of mass disparagement with glee. The adrenaline rush when the creative juice is flowing to hurl the most colourful insults enveloped in elegant sentences is simply irresistible.
That creative kernel was inside veteran filmmaker Anwardi Jamil, who had an early start as a journalist and film critic in the New Straits Times (NST), and was recently honoured with Best Director award at the Asian Cinematography Awards 2021 in Manila for Showtime 1958 (Netflix). When he was in NST, Anwardi trashed Rahsia (1987), directed by the then rising-star director Othman Hafsham – and the latter was not too pleased.
"He told me: Why not you direct a film yourself?" recalls Anwardi, in an interview with NMH.
Well, this happened to the celebrated French film director, Francois Truffaut, who started out as a film critic writing for Cahiers Du Cinema in the 1950s, a French language publication that put film criticism at a pedestal higher than just peanut-shell encrusted floors occupied by fat theatre reviewers of the past. The magazine also happened to be the textbook that fed the likes of the Brat members of Hollywood 1970s, like Martin Scorsese, Francis Ford Coppola and Brian de Palma.
When it came time to practising what he preached, Truffaut dumped his typewriter and went behind the camera to churn out respectable outputs, ie, critically acclaimed films that have been very influential all around the world. Indirectly, he had helped to rejuvenate Hollywood in the 70s.
Renaissance or Lack of Essence?
Yet, fast forward five decades, and a rejuvenation of a different sort seem to be happening in Malaysia, with the success of Mat Kilau and Air Force recently. A renaissance era for Malaysian filmmakers perhaps? Anwardi shrugged it off, saying, "Is that the type of movie that you really want to do?" Oops. Forget renaissance, even rejuvenation needs scrutiny.
The question was not aimed at current filmmakers per se, but also to his students who attend his film classes. "That's what I ask them," he noted. "If you want to make big mainstream films, fine. But you will become jaguh kampung. Nobody cares who Mat Kilau is overseas."
Jaguh kampung is the English equivalent of big fish in small pond. Not really a good adjective.
"Mat Kilau is good, yes, but if compared to Ip Man?" A question again, this time to the interviewer. Of course, Ip Man is huge, the sort of cult film that attained cult status before even it is in a legal age to become a cult film. The highly excitable audiences of the age of multiple-platform screens are prone to label any film as legendary, cult, or epic, even if they are still fresh in the memory and released only few hours ago. Cults are ordinary now and eat at the same table as popcorn fares. The discerning ones are turning the heads towards ones that can truly stand out and stand the test of time.
"To me, is the story universal enough to cross the border? To go to film festivals? Remember, that's why the late Yasmin Ahmad's films were successful in many film festivals. Because her films are about anonymous characters who had real life and universal conflicts. There were emotions of the sort that audiences can relate to," he pointed out.
From One Media to Another
Being born to filmmaker parents – the remarkable late Jamil Sulong and (gorgeous and super talented) actress turned film producer mother, Rosnani Jamil – Anwardi did not grow up camping in the film studios and cradling along dolly tracks. He was not even allowed there, in the first place. In fact, he recalled, the siblings were shielded from the industry.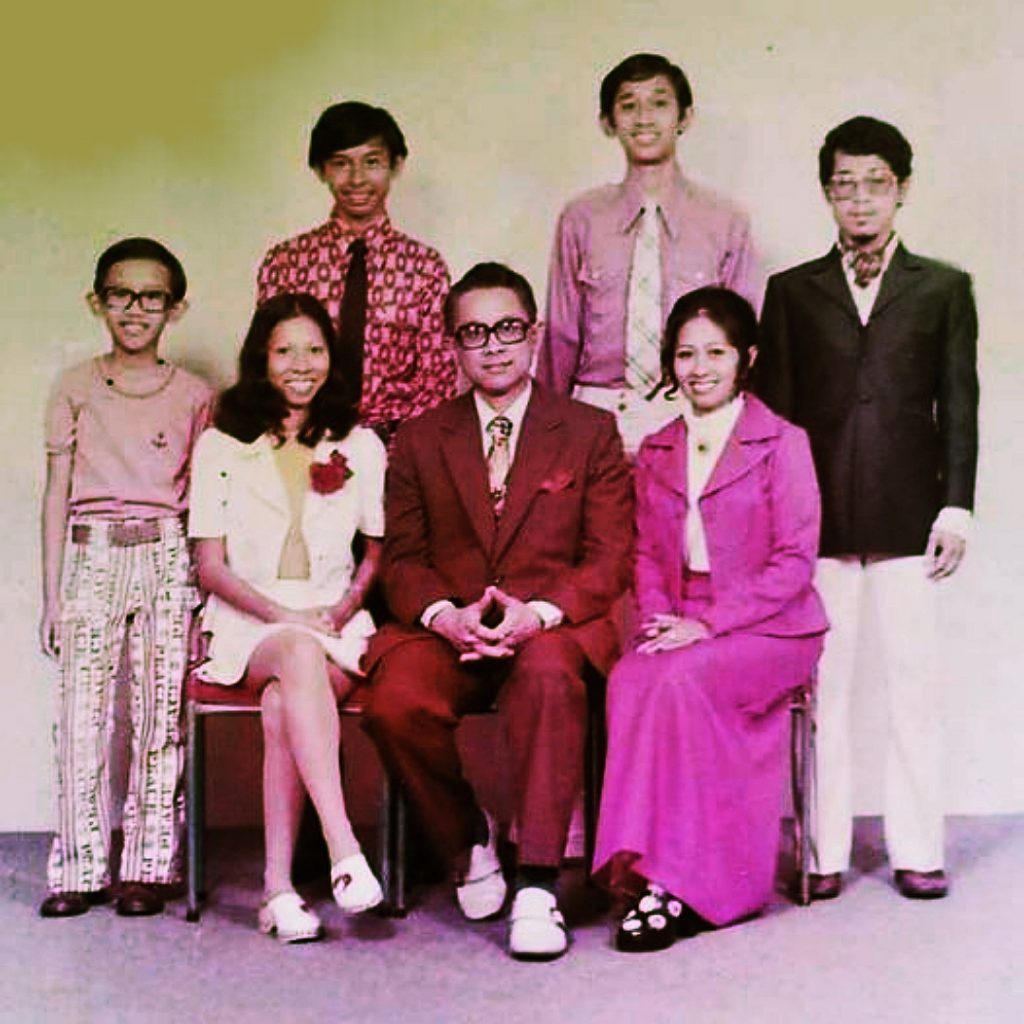 Indeed, daddy Jamil was a serious filmmaker. He meant business. At the time when P. Ramlee was mostly making entertainers (directing himself or performing onscreen for others) Jamil Sulong was blazing the trail with titles like Batu Belah Batu Bertangkup (1959), Isi Neraka (1960), Si Tanggang (1961) and casting Jins Shamsuddin as our very own James Bond (Jeffrey Zain) in Gerak Kilat (1966). Between 1959 and 1966, Jamil had directed 14 films! That would have sent any decent filmmaker to the nuthouse, especially with those fiery titles.
The kids were schooling hard too. Jamil's brothers and sister found themselves successful in varied fields, advertising, aeronautical engineering and even flying – a pilot that is. But Jamil wanted to become a writer. That was not really going to bring gleam into the parents' eyes, but he forged ahead.
As he finished schooling (the pre-STPM, HSC), he got himself mired, nay, involved in the newspaper industry. But what was he doing in the frayed cuff, pen and notebook industry when his parents were both the royalties of the Malay film industry?
Well, it was still in his blood and during his years in the New Straits Times he wrote film reviews as well (he flirted with cartoon drawing, a career that lasted one good year, Lat was safe). Anwardi then took up Mass Communication degree in-between the media jobs, and turned his attention to the entertainment industry, especially when he joined the newly installed TV3, as one of the pioneers where he helped to set up the internal production department – a herculean task having had to compete with the monolithic RTM.
One thing led to another (a story for another day, considering his vast experience was also in the corporate world and the ICT platform), and Anwardi started directing his own features films. His debut film, Tuah (1989) which he both wrote and directed, was not just a middling newcomer fare, it won the Jury Prize at the Asia Pacific Film Festival in Jakarta in 1990.
Films and Other Genres
The film itself was unique, about how the famed 15th century Melaka warrior Hang Tuah wakes up in the present Malaysia. Strangely, it talks about Anwardi himself, a man who is very much a product of the past despite himself having founded an ICT company at the dawn of Malaysia's own silicon valley. It also comes as no surprise that he has been appointed as (on ad hoc basis) Research/Consultant for Muzium Negara.
Indeed, add authoring the book, Gamelan: Sounds of Archipelago, to further cement his credentials in the historical art milieu. Want more? How about his own father's memoir, Kaca Permata, which talked about both the glory and the friction during the early years of Malay film production, covering the peak of Malay film industry in Singapore and the shift to KL.
The trials and tribulations were detailed in that no holds barred memoir. It was indeed a dangerous time, especially as there was a cultural shift in the sixties all around the world, and Malaysia too was moving into the dangerous 70s when foreign films began to invade the local cinema circuit. Hindi films overshadowed the success of any Malay language films and let us not even talk about the Hollywood titans. And then, as the 80s set in, when the majority of the households in the country owned at least a black and white television sets, RTM took it upon itself to screen mostly P. Ramlee flicks.
"That's the issue," said Anwardi. Barrage of P. Ramlee films are fine, but those aren't the only one that shaped the Malay film industry of that era. "They forget Omar Rojik, my father, and how about the late Sudarmaji or Hussein Haniff? Are all P Ramlee movies good? He had made some really bad ones too. There were so many other gems that can be re-screened like Batu Belah Batu Bertangkup, Si Tanggang, Singapura Dilanggar Todak or Sultan Mahmud Mati Dijulang."
Quantity vs Quality
That, sort of explains his less than enthusiastic response to Mat Kilau's success. It's the old issue of satiating the mainstream appetite versus providing quality meals. Anwardi's own films are grounded, mostly, especially the Kerja Kahwin (2017), a film that fared well in film festivals, which had a very rooted Malaysian and Malay content.
In fact, that was among the films he named, when was asked about few really strong Malaysian films that should represent the country over the years. The other two being Ranjau Sepanjang Jalan (1983), a film directed by his father that takes a hard hitting look at reality, based on the award winning novel by our Sasterawan Negara, Shahnon Ahmad; and U-Wei Haji Saari's controversial and powerful Jogho (1997).
Moving on, Anwardi is now developing an exhibition, the working title being "Towards 100 Years of Malaysian Cinema" where he will freely include the obscure works dating back when nobody thought there was even a Malay film.
"Look, we are not putting down P. Ramlee," he said of the content of the event. "But we want to also give credence to the others in the industry over the years.
"Names like Hussein Hanif, S. Roomai Noor and of course, Jamil Sulong. They all contributed and did wonderful jobs. But a lot of work needs to be done, especially the researches," he noted.
FINAS Should Be More Proactive
Anwardi also hopes that the exhibition will be permanent, so that it will continue to inspire the future generations. With this initiative, he also hopes that FINAS itself will take on a more proactive role in encouraging smaller films.
"There is space for everyone," he said. "What I am not too happy about is the government supporting commercial movies. FINAS was created to develop the industry, therefore the funds from FINAS should be for new ideas – brave courageous ideas – and fresh content". FINAS, he said, can also offer old filmmakers the chance to make aesthetically strong films they had always wanted to do.
"Imagine funding Rahim Razali, he is still full of ideas," Anwardi said. "Instead, we are thrown into the pitching game, pitted against 20 year olds. But we have the track record." It's the output, not the age matters.
Anwardi hit the nail on the head: Datuk Rahim Razali is no stranger to award winning flicks, and he still can flex his celluloid muscles. "Clint Eastwood is 93 years old," Anwardi added, "and he is still making films". – NMH
About the writer: Rakesh Kumar is a writer, scriptwriter, and a film aficionado, who believes that one U2 song line, "you glorify the past, when the future dries up".
The points expressed in this article are that of the writer and do not necessarily reflect the stand of the NMH.
Facebook Comments