YOU CAN'T EAT IN FRONT OF A FASTING MUSLIM. OR IF YOU DO, DO IT DISCREETLY.
Not True! Neither is there such a ruling in the religion, nor are there any right considerations. Non-Muslims are free to exercise their rights to eat whenever and wherever, including in front of fasting muslims. If there are people who tell you otherwise, be assured that they are in the wrong. Okay personally, I might get to salivate a little bit if you slurp your slurpee in front of me in the hot sun, but doing so is not wrong. In fact it might even be a test for my steadfastness. (But please, my weakness is cendol and chilli-fried squids. So be forewarned!)
2. A MONTH WITHOUT FOOD! I GUESS IT MUST BE HARD, YA?
Seriously folks, it ain't! Once you get the hang of it, not only does it become easy, but you begin to enjoy it, as we shall discuss afterwards. By the end of the month as it nears the final days, you are so used to it, you begin to wish that Ramadhan won't end. Many muslims practise the optional "six-day Fasting": anytime during the month following Ramadhan, the Prophet said those who fast an extra six days, will be given the reward as if he is fasting for the entire year. For me, I do my six days right after the Eid celebrations because I do not want to be too far from the end of Ramadhan to practise it. (It is forbidden to fast on the first day of Syawal, Hari Raya day). Of course there are other optional fasts too, like certain days of the year as well, every Monday and Thursday.
3. NON-MUSLIM EMPLOYERS SHOULD GIVE THEIR FASTING MUSLIM EMPLOYEES LESS TO DO BECAUSE THEY ARE FASTING
Nothing doing! Fasting is NOT an excuse not to work, or to be lessened of loads. Non-Muslim employers who have been told so by their fasting employees should tell them that when the fasting commandments were firstly enjoined after the 11th year of the Hijrah, the Prophet Muhammad commanded them to go to war—the Battle of Badr—right in the middle of the desert sun! In fact, for non-menial works like facing computers or writing up proposals etc, Ramadhan is a time to experience GAINING productivity, and you should expect your Muslim employees to produce that. Why not? They don't go for breakfast, coffee or afternoon tea. Their lunchtime can be used to have a few minutes of naps apart from their noon prayers. So they should be well rested.
4. MUSLIMS DON'T EAT AND DRINK AT ALL FOR 24 HOURS.
Seriously, if I do that, I'd die. One needs food and drinks every single day. In Ramadhan, one just push backwards one's breakfast time to pre-dawn (a bit before 6 am in Malaysia), abstain from consuming anything during the day and eat again at dusk. But I tell you one thing they should not do at all during fasting, and if you observe any of your employees doing them you have the right to admonish: slandering, backbiting and wasting time in gossiping, empty and useless talks and lying. Remind them of the saying of the Prophet who said, "Many are those who fast during the day and standing in prayers during the night and get nothing but hunger and tiredness" (Ibn Majah). The scholar Ahmad bin Hambal said that this refers to those who fast and do night prayers but do not abstain from backbiting and idle talk.
5. I HAVE SEEN SOME MUSLIMS WHO DON'T FAST. I GUESS IT'S ONLY OPTIONAL.
Well, there are Muslims who do (or do not do) worse than that and claim to be Muslims. You can either let them be or shame them into not practising their religion. Anyway, not performing any one of the obligatory commandments in Islam because one is lazy, is a glutton, stingy, or any visibly plausible reasons does NOT render a person to become a non-Muslim: merely sinful. In fact, even that can be washed away by repentance. But be aware of anyone who say that he or she does not perform prayers, fasting, zakat, going to Haj etc etc because he/she does NOT believe in it. Because inherently, internally, unsuspectingly, automatically, he already ceases to be a Muslim by doing so, irrespective of his name or lineage.
6. HAVING FASTED THE ENTIRE DAY, THEY SHOULD REST THE ENTIRE NIGHT. WHAT IS THIS TARAWIH ALL ABOUT?
It is understandable to wonder about this especially from non-muslims: on  Fridays one can see overflowing parking for the Friday prayers at mosques. But on Ramadhan nights? Isn't that tiring especially when you fasted throughout the day? Well, the Tarawih is a special set of prayers that the prophet did in the nights of Ramadhan. In ordinary days a Muslim prays 17 rakaahs—a rakaah being a unit of standing-bowing-prostrating-and praising God. These 17 rakaahs are distributed throughout the five daily prayers of morning, noon, afternoon, dusk and night. Now the Tarawih is an extra set of prayers one does AFTER the night prayer. Say at 8:30 or 9.00pm. The amount varies. The Prophet did eight rakaahs and you can do as many as you want. The majority of communities in the world (including my own mosque) do 23. That will take about one and a half hours to complete. But why do they do it — shouldn't they be resting? Well, the answer to this cannot be explained except using arguments of faith: Ramadhan is heralded to be a month of mercy by the Prophet and Muslims are enjoined to increase their worship in quantity. Many are happy to comply even though it is not mandatory. A Malaysian student studying in Egypt reported that in a mosque he once attended, the Imam finishes reciting the entire Quran in two nights of Ramadhan. From memory of course. You are talking being motionless for five, six hours per standing. Everyday! And guess what: the mosque was overflowing!
7. I GUESS WHEN YOU EAT THE PRE-DAWN MEAL, YOU STORE FOOD FOR USAGE OF THE ENTIRE DAY, JUST LIKE A CAMEL STORES WATER FOR LONG JOURNEYS IN THEIR HUMPS.
In ordinary scheme of things, this should be the logical thought process. However, eating during pre-dawn, at very odd hours, tend to do something to your body. Just an hour or so after that, after dawn, you tend to want to purge. (At least I do). Your body usually rejects the materials consumed at such odd hour. And you will do so… but NOT before all the nutrients, fibers  and minerals that your body needs have already been processed and separated, ready to be utilised for energy throughout the entire day. And THEN, when you pass stool, you will feel some kind of … pure emptiness in your stomach. And pure lightness. Some people have likened it as being in a state of…floating and light-headedness…due to their stomachs being absolutely empty. And no, you don't go hungry due to it. You just feel wonderful is all. 
8. I HAVE SEEN MUSLIMS WHO FAST TO BE VERY OBSERVANT AND PIOUS DURING THE MONTH, BUT AFTER THAT THEY DO NOT PRACTISE THE SAME. I GUESS ALL THE SINS OF THE YEAR ARE ABSOLVED IN RAMADHAN , NO?
Unfortunately, you have just observed what a Muslim shoud not be! The Prophet's injunctions for Muslims to fast during Ramadhan is not to torture them for a month. It is actually to train them to behave in the proper manner for the OTHER 11 months. Not in the prohibition of eating, but in the prohibition of things that, if done during fasting, would invalidate your fasting. Like telling lies, backbiting, gossiping, being unnecessarily and excessively hot-tempered and angry, cheating, and many others. Those who go back to their former despicable selves after Ramadhan have NOT obtained the true spirit of Ramadhan, at all!
9. EMPLOYERS SHOULD NOT SCOLD THEIR FASTING EMPLOYEES, ALLOW THEM TO GO HOME EARLY, OR, CONVERSELY, GIVE THEM EXTRA WORK TO DO.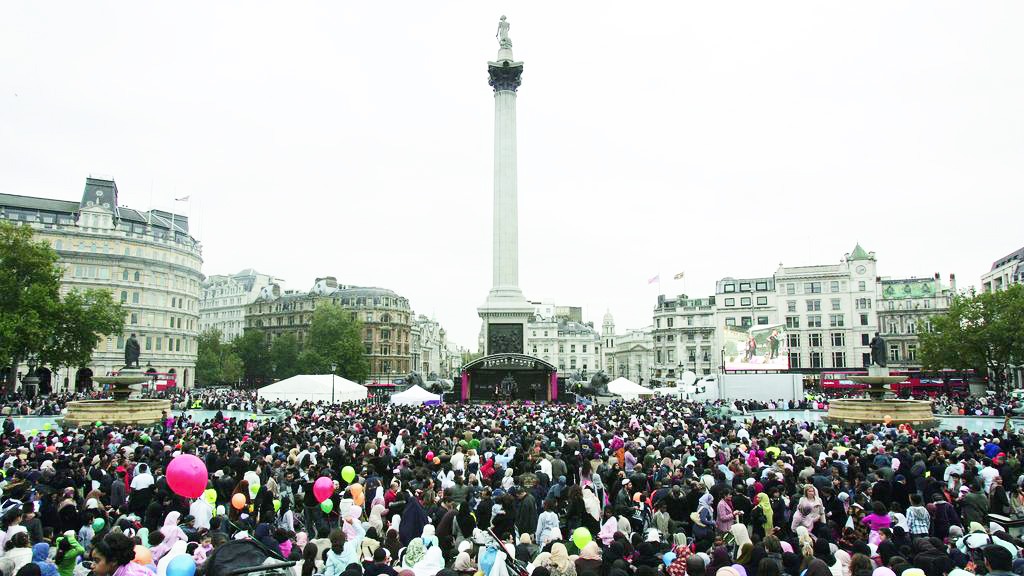 Mmmm, yes and no. Scolding employees unnecessarily is never a good thing. Admonishing adult and mature ones should be done with tact. But it's got nothing to do with fasting. It is always a good thing to be a boss loved by everybody, especially your low workers. Just remember that they are the cogs and wheels of your machinery: if one gets stuck, the entire machinery will cease to function properly. As far as letting them go early, I tell you a secret. Since they take their pre-dawn meals already and have no need for breakfast, you can ask them to come to office early and THEN let them go early if you wish. After all they have to prepare their Iftar. They do that either by going to the Ramadhan Bazaar or have to cook at home. But be careful of giving them extra works beyond their capability, just because they have time due to fasting. Here is another secret: they will be happy if you give them some kind of tokens of appreciation. Like food hampers like what the Chinese have during CNY. Remember, such things are not within the culture of Islam. But presenting them with such will gladden them greatly and it will go a long way to promote the picture that you are a great and understanding boss. (But before you do, take them Johnny Walker bottles and cans of Cured Spam out from the hamper!).
10. ONE WORD: RAMADHAN BUFFET! WOW. SHOULDN'T ALL MUSLIMS HAVE THAT?
I wish I can say yes. Fasting during the day is not so much that you gorge yourself during the night. It is a month to remember the less fortunate amongst us. It is to feel what the poor feel, to have solidarity with them on things that they cannot afford. There are people out there — Muslims or non-Muslims—who may not be as lucky as us to have even the required salient meals per day. Ramadhan buffet? They can only afford that in dreams. But its all consumerism, folks. Some places even have Iftar buffets for 250 to 300 ringgit per person. Nothing wrong, of course, to spend that much for food. But I won't be able to swallow a morsel thinking that there are people out there who cannot afford that much for their entire month's food! In poor countries? Perhaps a year's food! Just remember this: if the Prophet were to be alive now and fasting with us, where would he have chosen to break his fast with. Those exorbitant buffets or with the target and aim of our fasting in the first place, like, for instance, these folks…:
Note: The views expressed in this article are that of the writer's and do not necessarily reflect the views of the New Malaysia Herald
About the writer: Poet, Pianist, Painter and Technology Buff. Scientist by Profession, Artist by Heart.
New Malaysia Herald publishes articles, comments and posts from various contributors. We always welcome new content and write up. If you would like to contribute please contact us at : editor@newmalaysiaherald.com
Facebook Comments