Can you imagine a life without YouTube?
I can't. Recently I was trying to figure out the laziest way to cook Couscous. Sure I could use the stove, but that still required a bit of effort. I went and YouTube and yes, I could use the rice cooker. Since then, every single time I've wanted to make Couscous, I've just used the rice cooker.
YouTube has many uses, from information to entertainment and anything in between.
As a gamer who is also a fan of comedy, naturally I gravitate towards the comedic gaming genre, where gaming community YouTubers humorously react to the ever-evolving video game landscape.
They give a voice to millions of gamers. Alpharad's playthrough of Super Mario Odyssey shows love for the game while also complaining about the number of game collectables (called 'Moons') one needs to collect to get 100% in the game. Shelby and Matt of Girlfriend Review show what life is like for a couple where the boyfriend games and the girlfriend watches him game (and sometimes vice versa, when Shelby played Animal Crossing and Matt had to commentate for once). Brian David Gilbert parodies gamers who take the lore of video games way too seriously with a series on Polygon called Unraveled, in which Brian, in each episode, slowly and surely loses his mind with Video Game Lore, his magnum opus being a rap about Pokemon in which he had to insert the names of all the Pokemon in existence (there was 800+).
As you can see, these YouTubers are creative, fun and intelligent. However, they sadly don't get much in terms of views. The bigger gaming streamers, like Pewdiepie, Ninja and Markiplier, post videos with views numbering in the ten of millions, while these great streamers pictured above would post videos that take a week to reach one or two million views. Make no doubt about it. Shelby, Matt, David and John (Alpharad) have a higher quality of videos compared to Ninja, Pewdiepie and Markiplier. The difference?
The "giant" streamers post every day. Every single day. Their target audience? The lowest common denominator. They'd get 10 million views every day for videos that have all style and no substance.
Meanwhile, the good streamers will take days, weeks and even months to post their videos. They will take time to curate, script and edit their videos to whatever is closest to perfection in their eyes.
And in the second week of December, one of the most unique voices in Youtube gaming, VideogameDunkey, finally let loose on all that is wrong with the landscape of Youtube.
Who Is Dunkey?
Dunkey (Real name Jason Gastrow) has been creating videos about videogames since 2003 (originally as an amateur animator on Newgrounds before Youtube ever existed). He started gaining fame with his video essays and highlight reels of his playthroughs of League of Legends. He started slowly venturing out of League of Legends into other games, from high-end Triple AAA fares like Super Mario Odyssey (A review so good it actually got me to buy a Nintendo Switch).
To playthrough of famous co-op games like Portal, click here.
To playthrough of games that make people want to tear their hair out like Getting Over It, click here.
Throughout a couple of months, Dunkey averages 3-6 million views per video and his unique style, sense of humour and distinct voice have led him to be recognised as one of the thought leaders in Youtube Video Games, with The Washington Post naming him a rock star of Video Games. He even branches out at times and has reviewed films such as The Shining, La la Land and Spiderman 3.
Dunkey's view of the Youtube gaming landscape
On 03 December 2020, Dunkey released a video called "I'm Done Making Good Videos".
In it, Dunkey talks about his pride over the videos he makes, but since he plays the games, writes the scripts, records the playthroughs, narrates and edits his videos, he is not able to compete with the number of videos that bigger channels are churning daily (he says that he sometimes struggles to even put up four videos a month). This factor means that he sometimes struggles to financially cope with being a Youtuber full time since he's not churning out garbage like the big-name channels. The big-name channels have teams of editors and producers to help churn out simple-minded Among Us and Minecraft playthroughs, which means the money comes in at a faster rate for them.
So he's done making good videos and would make daily uploads instead. In the video, he shares his new schedule for his channel, with Mondays being Drama Mondays where he supposedly discusses the biggest Drama with Youtube celebrities, Friday being Reaction Friday where he reacts to scandalous Youtube videos, and the rest of the week being a split of "playthroughs" of Among Us and Minecraft, arguably two of the hottest properties in video games (If you don't know what they are, ask any person under the age of 14 and they'll explain it to you).
And this is where the magic happens.
His first Reaction Friday was a 40-second video where he tries to spot a fake gamer.
He uploaded a video about Pandas and Squirrels, and he created a $1,000,000 Among Us tournament, where the winner won $20 (There were only two players, with Dunkey being one of them).
He continued in this vein for most of December, with(almost) daily uploads that became more and more ridiculous.
The Result
It worked!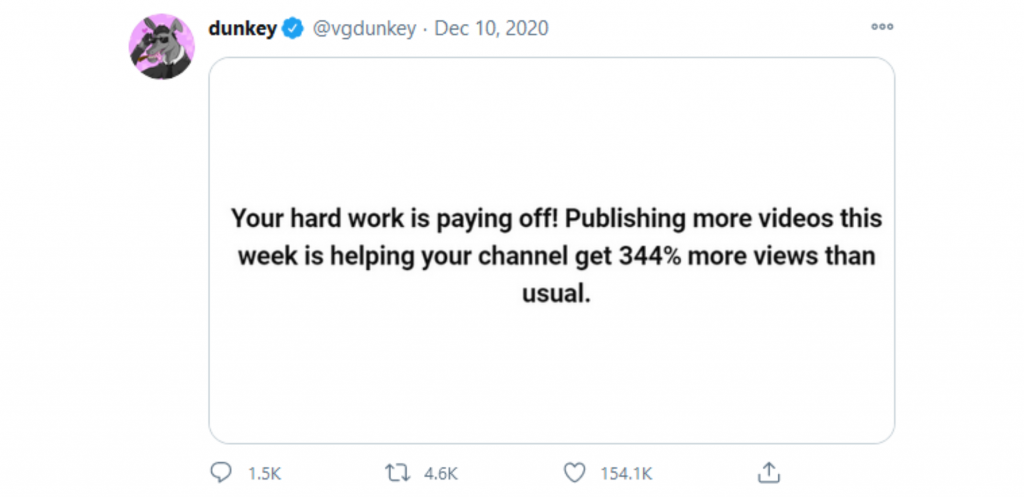 Conclusion
Dunkey creating these videos has shown how we as a society are now imbibing media. Youtube is the biggest free outlet of media in the world, with 300 hours of media being uploaded to Youtube every minute. With that much content, it is hard for people to differentiate quality over quantity.
The thinkers of society would prefer these huge video essays that explain who we are, what we love, where we come from and where we go. They enrich our soul but doesn't necessarily make money for the creators of these videos.
The reactors of society, the people who live in the here and now and have no time or inclination to think about the question of what makes us who we are, would enjoy short daily uploads that entertain us for a few minutes a day and then leave our minds as fast as they came in. Sadly, the creators of this audience make money by the millions.
So what do we want in our free media? Thinkers or reactors? – New Malaysia Herald