I went for a COVID-19 test recently. I've heard fear-mongering over it, also about the vaccines for the virus. This is my experience.
Why Did You Have To Take Test
Firstly, the company I work for, Blubricks, takes care of the staff. The company sponsored a test about 5-6 months ago and told me to go for another one, which I happily did.

Secondly, it's my public responsibility to do so. I believe if we can afford it, we should all get tested every 3-6 months. It's now almost a year of us being stuck at home and the more we take care of each other, the faster we'll get through the tough times together.
Where Did You Go?
There were many options, but due to location and price, I decided to go to the BP Healthcare Group Lab in Glenmarie. They also had a nice conversational manner when I called them for some details. Understandably, people in healthcare have a tough time and their conversational politeness goes out the window when they're busy, but the lady I called sounded busy but still had the grace to be polite and I appreciate that.


Did You Have To Book An Appointment?



Indeed I did. There are two options. You can go to their affiliated website, Doctor2U or download their app which is available on the Google Play Store and the Apple App Store.
Here's a tip. Use the Promo Code Promo 180 and the price goes down from RM 240 to RM 180.
This is for the PCR test, which is way more comprehensive than the RTK test that's cheaper, but less effective at finding the virus in your system. The RTK still works if you can't afford the PCR test, but the PCR is better at pinpointing the virus.
Was The Lab Full?

No it was not. There were a lot of people taking the test but BP Healthcare seems to know what they're doing. I only needed to wait in line for maybe a minute or two. They knew how to segment the crowd of people there and most of us were in and out of the building in a matter of minutes. I ordered a Grab to take me to the lab and when I ordered a Grab home it was the same car that took me there as it was still in the area
Was The Test Painful?
Not for me. A long cotton swab went down my nose. Another one went down my throat. I've had sinus problems my whole life so this is no big deal. However if you're not used to things going down your nose and throat this might be an issue.
Would You Recommend Bp Healthcare For The COVID Test?
Definitely. The price, patter and timeliness really sold me on this place. However, as this is not a paid promotional article, go ahead and consider others. The only complaint I have with the Glenmarie location is it's a bit far from the train station and the bus timing for the Shah Alam area is horrendous, but that's more an indictment of Rapid than BP Healthcare.
How Did You Get Your Results?
When I booked my appointment online, they mentioned that they would email me the results in 24 hours. Even though I was mostly not worried if I had Covid as I sanitised regularly and stayed at home a lot, there was a part of me that was anxious as I had a bit of a flu due to the haze the week before, so I downloaded the app and through the app you can see the progress of your sample being tested in real time, which I think is pretty cool.
I took the test at 11 am and expected to get the result at 11 am the next day. However what really happened was I got the result at 1 am the next day through e-mail, a SMS and a notification from the app. I only saw it at 4 am when I woke up to go to the washroom.
Another fun tidbit is that my MySejahtera app was updated two days later to reflect my results.

The Result?


It was negative, which is a relief. My absolute need to use up sanitiser like I'm showering under a waterfall has helped.
Fun Fact
I've opened up a Patreon, so if you'd like to support me making more articles visuals and more videos literary, be my patron. – New Malaysia Herald
About the writer: Bob Morshidi is a drama teacher, freelance writer and satirist with a love for absurd comedy, popular culture and the lighter side of the seriousness of life. Follow his Instagram @bearmanwrites.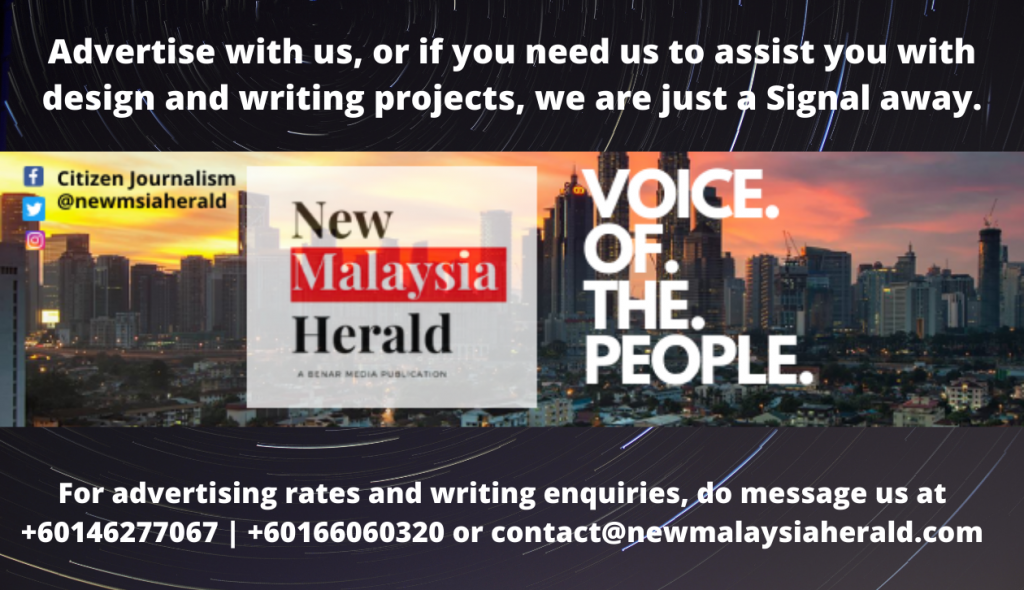 New Malaysia Herald publishes articles, comments and posts from various contributors. We always welcome new content and write up. If you would like to contribute please contact us at : editor@newmalaysiaherald.com
Facebook Comments