Kuala Lumpur – Some 2,000 people gathered at the World Trade Center here today to mount pressure for the arrest of former Malaysian Central Bank (BNM) governor, Zeti Akhtar Aziz.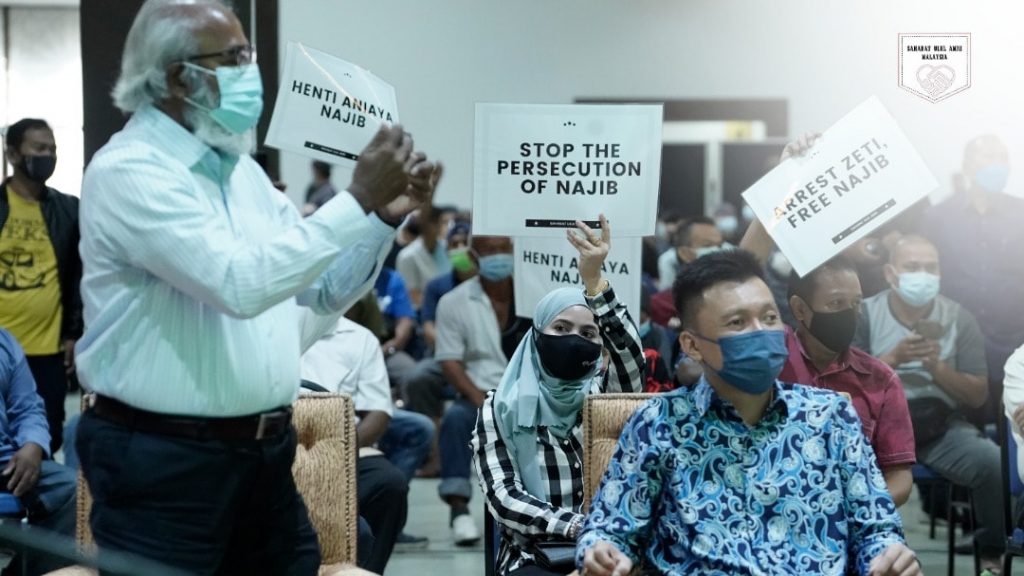 The gathering organised by Persatuan Sahabat Ulul Amri Malaysia (PSUAM) also called for former Prime Minister Najib Razak to be acquitted and freed from all "political persecution" against him.
Najib is on trial for several counts of money laundering and abuse of power over the alleged misuse of 1MDB funds deposited into his AmBank accounts between February 2011 and December 2014 during his tenure as the prime minister.
Its Chairman, Syed Muhammad Imran Abdul Aziz said he believed that Najib had been used as a scapegoat and denied his rights.
"There is evidence that can clear Najib of all the charges against him, but the MACC (Malaysian Anti-Corruption Commission) had withheld these.
"MACC under the previous government had instead abused its power to cover up for big names like Zeti and her husband, Tawfiq Ayman, who are linked to the AmBank Special Report.
"I believe Zeti had advised Najib to open an account using his name to receive the said contributions," he told a press conference after the gathering.
The report produced by the MACC alleged that Zeti knew and consented to the RM2.6 billion to be deposited in Najib's account.
The said deposit which Najib claimed to be a donation from the Saudi royal family, became the subject of controversy and the basis for subsequent charges against him.
Participants of the gathering sat in neat rows observing physical distancing were holding placards calling for the arrest of Zeti and to free Najib from all criminal charges.
There were also slide shows screened at the gathering featuring all Najib's achievements during his tenure as the prime minister.
The slide listed a total of 175 infrastructure projects which could benefit the people that were either cancelled or restructured by the Pakatan Harapan (PH) government after GE14.
Police and enforcement officers from the Health Ministry were there to monitor the situation.
The organisers also gathered signatures from participants for a memorandum to be submitted to the King asking the interference of His Majesty to look into Najib's cases and to stop the abuse of power against him.
The peaceful gathering started at 10.00 am and dispersed around noon.
On Saturday (22 Jan), local daily Utusan Malaysia reported quoting a source as saying MACC is conducting a separate probe on Zeti and former finance minister Nor Mohamed Yakcop after receiving a report from a non-governmental organisation (NGO) on 22 last year.
The NGO which reported the matter was PSUAM, the organiser of today's gathering.
The source said that the case is being investigated under MACC Act 2009 and Anti-Money Laundering Act 2001. – New Malaysia Herald
Facebook Comments