Najib reiterated his earlier calls that what we need is a competent government that is able to map sustainable growth for the country!
PENANG – In what is reminiscent of his speeches when he was Malaysia's sixth Prime Minister, Najib Razak chose to uplift the spirit of his fellow Malaysians than to allow them to dwell on the uncertainties, especially political fatigue, they are experiencing.
Presenting his keynote address at the 2nd Penang International Business and Investment Summit (PIBIS) at the Setia SPICE Convention Centre here, the former premier said that the past two years have shown us that the Malaysians' frustrations run deeper than these most recent political battles. 
"Their frustration is rooted in their own daily battles – to make ends meet, to pay for college, buy a home, save for retirement, to name a few.  It's rooted in the gnawing sense that no matter how hard they work, the deck is stacked against them.
"It's rooted in the fear that their kids won't be better off than they were; and that is a dangerous and growing inequality and lack of upward mobility that has jeopardized middle-class Malaysians' basic bargain," he added.
The embattled Najib, who is slapped with a slew of politically-motivated legal charges, said that this year, we have chosen hope over fear, unity of purpose over conflict and discord.
Endemic Phase
He added that as we enter the endemic phase, the State's main economy on tourism and hospitality will flourish once again, coupled with the growth in the manufacturing sector and listed out the various successful projects in the State which was initiated when the Barisan Nasional government was helming the country pre-May 2018.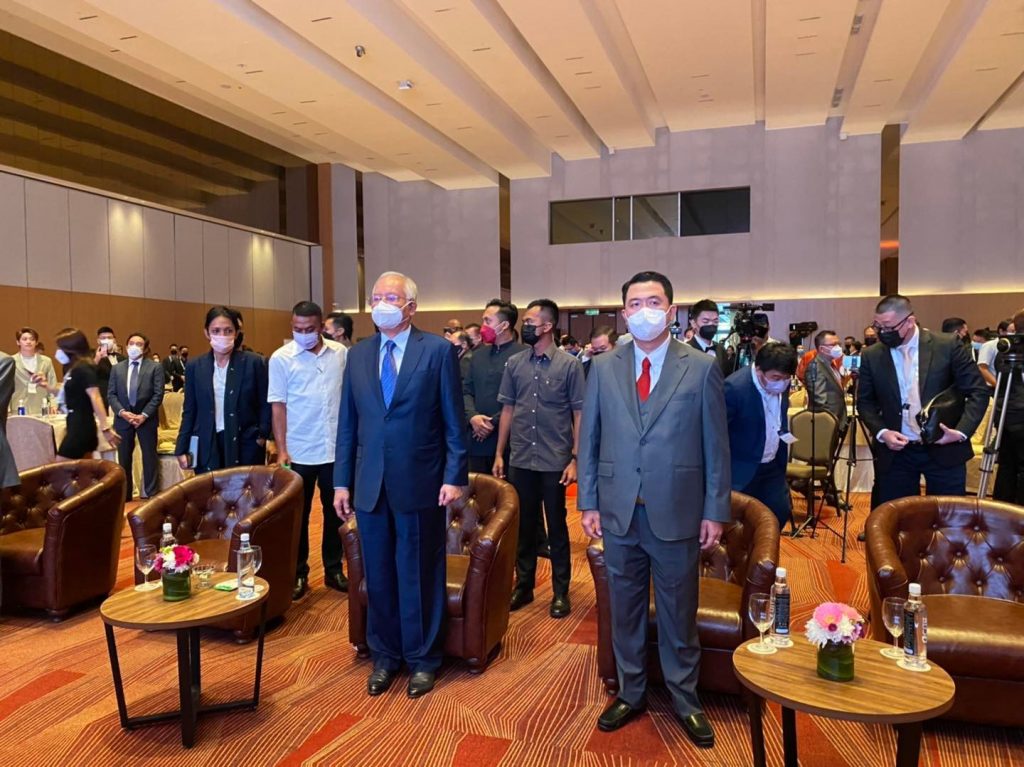 However, he was empathetic of the fact that since May 2018, many multinationals have moved their operations out of Malaysia. Najib urged that all Malaysians must do everything within their power to attract foreign direct investments into the country.
"Nostalgia often becomes prevalent and more appealing in times of crisis. But, we have no time for this luxury. We must now tackle the challenges head-on and be creative in our approaches. The country needs planners that will unearth Malaysia's true strength and at the same time, our economic plans can no longer be inward-looking.
Najib said that the High-Speed Rail (HSR) connecting Malaysia and Singapore within 90 minutes, is expected to contribute 21 billion ringgit growth in the gross domestic product (GDP) per year to Malaysia and Singapore. Approximately 111,000 jobs will be created by 2060. This is a game-changer, it will integrate the two economies and by extension, enhance business-to-business and people-to-people connectivity, thereby spurring growth and unleashing the hidden potentials of the smaller towns, not just to tourists, but also inventors and the ordinary working people.
The pandemic, he said, has also unmasked a broken food system. The system is not equitable where the poor suffer from higher loss of income and are not resilient as basic food items become increasingly unaffordable to them. Food security does not only consist of preserving the paddy fields in Penang but also of preserving multiple sources of food.
Echoing the calls by the various quarters for a general election to be held soonest possible, he said that it is time for us to elect a government that has a vision for the country, a government that could be formed with a stronger majority, a government that is able to govern and deliver.
"In short, a competent government that is able to map sustainable growth for the country."
And that, he said, would be this nation's secret to greatness.
Visionary And Stable Government
Najib reminded the audience that businesses and investors have proven over time that they crave for certainty and stability, consistent and clear policy, implemented by a visionary and stable government. These, he said, are effective ways to boost investors' confidence.
"Let's us keep our eyes fixed on the horizon as we carry forth the prosperity and freedom, and deliver it safely into the hands of our future generations.  It has opened up a path to a new world. The opportunities are ours for the taking. But we must be vigilant not to squander it. Nothing is written," the former premier ended.
PIBIS is organised by the International Strategy Institute (ISI) themed, Growth Through Partnerships, Capitalising On Opportunities. This is the second time that the think tank has organised a summit inviting the former premier to present the Keynote Address. The first was during the World Chinese Economic Forum in December last year. – New Malaysia Herald

Datin Hasnah is the co-founder and CEO of New Malaysia Herald based in Kuala Lumpur, Malaysia.
With an extensive background in mass communication and journalism, she works on building up New Malaysia Herald and it's partner sites. A tireless and passionate evangalist, she champions autism studies and support groups.
Datin Hasnah is also the Editor in Chief of New Malaysia Herald.
Facebook Comments