Zahid: Umno needs a fresh mandate so that it can eradicate further desecration of the legal system in the country
KUALA LUMPUR – The cruel treatment of former Prime Minister Najib Razak has spurred the Umno grassroots to call for the immediate dissolution of Parliament due to the government's failure to uphold justice for its citizens.
Umno president, Ahmad Zahid Hamidi did not mince his words as he expressed Umno's demand for the general election to be held as soon as possible with the hope that such injustices would be eradicated when the new gov't takes over.
Speaking to Umno members, supporters and friends at the World Trade Centre today, he said the party is not greedy, but it was an understanding that the general election should be held after herd immunity was achieved, in other words, at the end of the Covid-19 pandemic.
Zahid said it is a mark of respect for the people's mandate and Umno does not want to be part of a gov't formed as a result of political manoeuvring.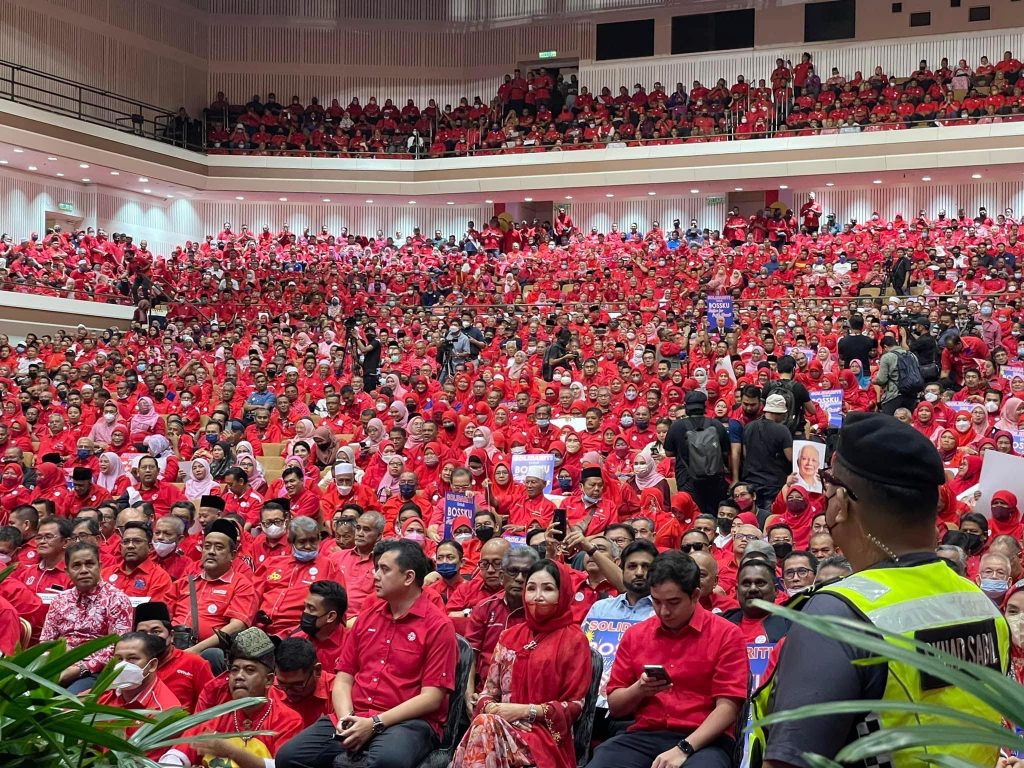 "We do not want to see the country's legal system to be destroyed by those who treat the legal institution as a chess board.
"We also do not want Malaysia to be helmed by the law of the jungle. We stand here in unison in the name of solidarity to bring back Umno and Barisan Nasional to lead the country."
Umno Wants To Eradicate Revenge Politics
More importantly, he added that the party wants to end revenge politics and threats brought about by the opposition.
Zahid said that they do not want to organise street protests or demonstrations to be held in public places, nor will they light candles in front of the prison.
"Umno and Barisan Nasional do not have that kind of DNA to create trouble.
"We are a party that brings stability and peace, no matter what, we will not lose our head over this," he added.
He also paid tribute to the former president and prime minister Najib Razak who is currently serving a 12-year sentence at Sungai Buloh prison.
Zahid Hamidi said Najib will never be alone and his deeds to the country and the party will not be forgotten.
He said Najib's family will not be alone in the party's fight for justice and as long as there is an avenue, they will continue to fight for Najib's release.
The former deputy prime minister said it cannot be denied that Umno was the one who set the constitution. 
He said Umno is the guardian of the constitution and the constitutional crisis in the 90s was the result of one person (obviously referring to former Prime Minister, Mahathir Mohamad.)
"Twenty-two years and later 22 months are proof of how the law was abused, acting as executor as long as his political enemies are destroyed."
Zahid said that the draconian Internal Security Act was ended by Najib when he was the prime minister because ISA, which was formed to fight off the communists was misused by the 4th Prime Minister (Mahathir) to shut off anyone deemed as a threat to his position, including those from within the party itself.
"Many of the present opposition leaders graduated from ISA and vowed to investigate and throw that person in jail. He was called various demeaning names such as Mahazalim, Mahafiraun and a robber.
"But since the person was now regarded as a weapon against us, he was chosen to lead Pakatan Harapan.
"Where are all the shouts of the father of corruption, enriching cronies and nepotism that enriched his own family? Instead, he was chosen as the 7th Prime Minister," Ahmad Zahid told the crowd who thronged the halls to full capacity.
Voter Manipulation
He said that PH managed to manipulate voters and brought in a committee member of a political party to lead the Malaysian Anti Corruption Commission, apart from changing the Attorney General.
"Even the Chief Justice and judges were appointed with his consent. I did not say this, former Attorney General Tommy Thomas did via his book and this has caused the judiciary to be met with scepticism."
Zahid added that the three main posts were a strategic move to fulfil their political agenda to destroy their political enemies and rescued their partners.
The AG then was like a deity. He could charge or release anyone according to the whims and fancies of his political master.
"Lim Guan Eng's bungalow case was dropped without any reason given. And so were many others.
"We demand for a Royal Commission of Inquiry to be formed to investigate Tommy Thomas' expose on political interference. Najib was the first person to be humiliated when they won.
"When Najib's house was turned upside down and so-called evidence taken away, it was made public to humiliate him.
"I have never asked for my court case to be dropped. Not from the 8th prime minister nor the present one, although he is one of us.
"And so does Najib. He is consistent in not wanting the cases to be dropped but wanted to clear his name and his family in court.
"All he wanted was a fair trial. He had asked for some time to present new evidence but was denied." "I am not a lawyer but I know it is part of the process to find justice."
Ahmad Zahid said Najib's case will be a reference material not just in Malaysia but other Commonwealth countries.
He said Najib's misfortune should bring everyone closer as it is everyone's issue. "We are a big family and it is greatly felt by all of us," he said.
He said that although the present government is helmed by the Umno vice president, it is a hybrid government. The reference is made to Prime Minister Ismail Sabri who has been trying to delay dissolving the Parliament, alleged to be clinging to power. At the mention of Ismail Sabri, the members present jeered.
He called upon Umno members to start a campaign called Nukilan Untuk Najib for party members to write notes to Najib which will be compiled by the party headquarters and delivered to him.
"Umno members should also support any campaign to ask for a royal pardon and please like and share Najib's FB posting as it is our weapon to fight our enemies.
"Lastly, please get ready for the GE15 to be held anytime from now. We believe the government under Ismail Sabri will not allow our hopes to diminish if the date is delayed," he said.
Other speakers at the President's Briefing Session were Najib's children, Nizar and Nooryana Najwa, Special Advisor to the Prime Minister Azalina Othman Said and Najib's legal counsel, Shafee Abdullah.
Part of the session was a dedication and tribute to Najib for his brilliant premiership of the country and thereafter as Umno leader in an advisory capacity of with so many people-centric programmes, a testament to his pure dedication to the citizens. – NMH
More stories to follow.
New Malaysia Herald publishes articles, comments and posts from various contributors. We always welcome new content and write up. If you would like to contribute please contact us at : editor@newmalaysiaherald.com
Facebook Comments